Thank you Conference Sponsors!
Nebraska Brain Injury Conference March 23 - 24, 2017. Join Us!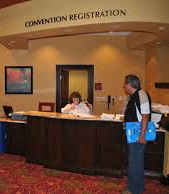 Earlybird Registration Deadline: February 17, 2017
Registration Deadline: March 17, 2017
Contact hours available:
7.2 contact hours available for Thursday, March 23, 2017
4.7 contact hours available for Friday, March 24, 2017
Sponsors & Exhibitors: At the Brain Injury Conference, you can reach out to a wide variety of health professionals, educators and families living with brain injury, as well as network with industry partners. See tabs at left.

Location: Younes Conference Center Kearney, NE
Younes Conference Center, 416 Talmadge Road, Kearney, Neb. The Center is located directly behind the Holiday Inn; turn west at the first intersection north of I-80.
Updates regarding registration deadlines, speakers and other notifications will be posted in our Update e-newsletter and on our Facebook page. Like us on Facebook or sign up to receive our latest email newsletter so that you receive the most updated information.
---
Plan to attend BIA-NE Reception at the Great Platte River Archway
Thursday, March 23, 6:30 to 8 p.m.
$35 per person. Heavy hors d'oeuvres and cash bar. Tour the facilities.
Sign up on the REGISTRATION  page or at the conference.
---
Who Should Attend this Conference?
People with Brain Injuries

Family Members/Caregivers

Health Care Professionals (See "For Professionals")

State Agency Personnel

Educators who work with brain injury or special needs children.

Law Enforcement Personnel

Anyone interested in issues and trends in brain injury 
For more information, contact: Cindy cindy@biane.org or 402-304-8103.