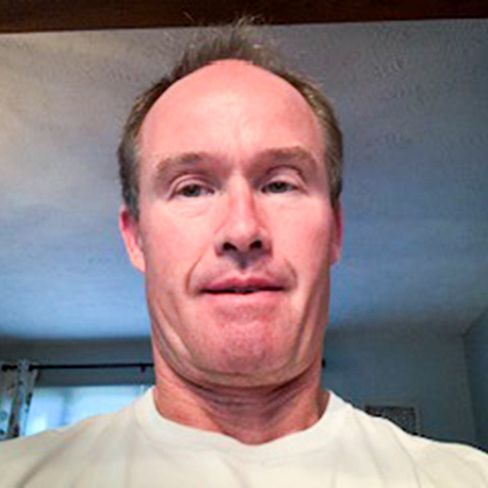 My brain injury occurred 35 years ago in 1988. I was 17 years old and a junior in high school. I was involved in a car accident in Omaha, NE where I sustained multiple serious injuries–the most serious being a Traumatic Brain Injury (TBI). I was life-flighted to the University of Nebraska Medical Center, put in a medically induced coma for four days, and spent an additional two weeks in intensive care. Then, I was transferred to Immanuel Hospital where I spent two months of inpatient care and received two additional months of outpatient care.
I suffered a shattered jaw along with my TBI and was unable to speak for an initial 6 weeks. Neurological testing indicated that my jaw likely saved my life by absorbing the majority of the blow that would have otherwise impacted my brain negatively. At this time, I had the competency level of a second grader.
I do not remember anything during the three months that I was in the hospital other than walking out on my final day of inpatient treatment and my physical therapist, Dave Nemgar, who was a PT student from the Mayo Clinic and made a world of difference for me in my recovery.
The accident occurred on the first day of Spring Break. I ended up recovering in the hospital the rest of the school year and most of the month of June and was fortunate to complete my senior year following the injury because I had taken the majority of classes needed to graduate in my junior year preceding the accident.
After graduating high school, I enrolled at the University of Nebraska-Lincoln (UNL) 17 months post-injury. Christy Horn, then Director of the Services for Students with Disabilities office (SSD) and an advocate of mine, let me know that I was the first student to start and complete my degree at UNL with a TBI. During my second year of college, I developed two goals for myself: 1) I needed to graduate from college because that would show that I had not let the accident beat me, 2) I needed to help one other person with a brain injury.
A couple of the accommodations I received via SSD for my brain injury were getting additional time to take my college exams due to slowed processing speed and providing my employment as a student worker. After 6.5 arduous years at UNL, I graduated with a degree in Exercise Science in December 1995 and accomplished my first goal.
Currently, a student with a disability only has to take 9 credit hours to be a full-time student. Back then, a person with a disability had to have 12 credit hours of classes to be perceived as a full-time student. This was too much for me. Therefore, I had to switch one or two classes to pass/no pass to successfully complete a semester.
During my senior year at UNL, Dr. Horn's professional career advanced to the Americans with Disabilities (ADA) compliance office for the state of Nebraska. This will become relevant later on.
I eventually decided that I wanted to become a physical therapist like Dave Nemgar, in order to accomplish my second goal. I faced a problem in not getting high enough grades to get into PT school, therefore, I set my sights on becoming a Physical Therapy Assistant (PTA). The requirements were less stringent and I would still be able to work with people who incurred a disability and struggled in getting back to their lives. I applied to several different schools, but the only one that I got into was a small midwestern college. I told them all about my injury and my need for accommodations but they were not willing to allow it. The way the program was set up was that you had to pass all of the classes from the first semester to advance to the second semester, and you could only repeat classes once. They failed me in one class the first semester with the intent of getting me to quit the program.
I did not quit the program, but I audited all of the classes for the second semester with the thought of it benefiting me when I came back the following year after retaking the one class I failed in my first semester. The fact that I paid for and sat through classes that second semester appeared to visibly annoy the instructors in the program, but they let it happen. As I continued to be a college student, they had me sign multiple forms with the intent of trying to show they were trying to work with me, yet, they eventually failed me, so I was unable to become a PTA. This, including my accident, was the most difficult time in my life–all the work I'd put towards the career I tried to achieve was lost.
Through all of this, I kept in constant contact with Dr. Horn (the Americans with Disabilities Compliance Officer for the State). They did end up failing me, but because of my connection with the State's ADA and the forms they had made me sign, it was very clear their intent was never to allow me to pass. In the end, the school was reprimanded and the director of the program lost his job because of the way he treated me.
I ended up moving back to Omaha and I went to work at a facility called Quality Living Incorporated (QLI). It was March of 2003, 15 years after the accident, when I worked in the physical therapy department as an aide, which allowed me to help one person with a brain injury.
I'm confident I had helped people before that, but it was just a point in time when I knew I reached my final goal.
I remained at QLI until 2005 when I met my wife, via E-Harmony and lived in Lincoln. We got married in 2006. In 2007, we adopted our first child from China and in 2009 we adopted our second child from Ethiopia. We recently celebrated our 17th anniversary.
I realize that I have been incredibly fortunate because I have been able to make a full recovery, and, to this day, I can't explain why.