Nebraska Law
The Concussion Awareness Act requires all schools to have a protocol in place to assist students with brain injury in the classroom.  The Nebraska Department of Education has brain injury resources for schools. 
---
Get Schooled on Concussion
Half of Nebraska teachers responded in a 2018 survey that they did not know how to manage concussions in the classroom and the same amount noticed an academic decline from students after sustaining a concussion or head injury. But finding a way to offer differentiated instruction to a student can be a challenge, especially with full classrooms and limited free time in a teacher's schedule.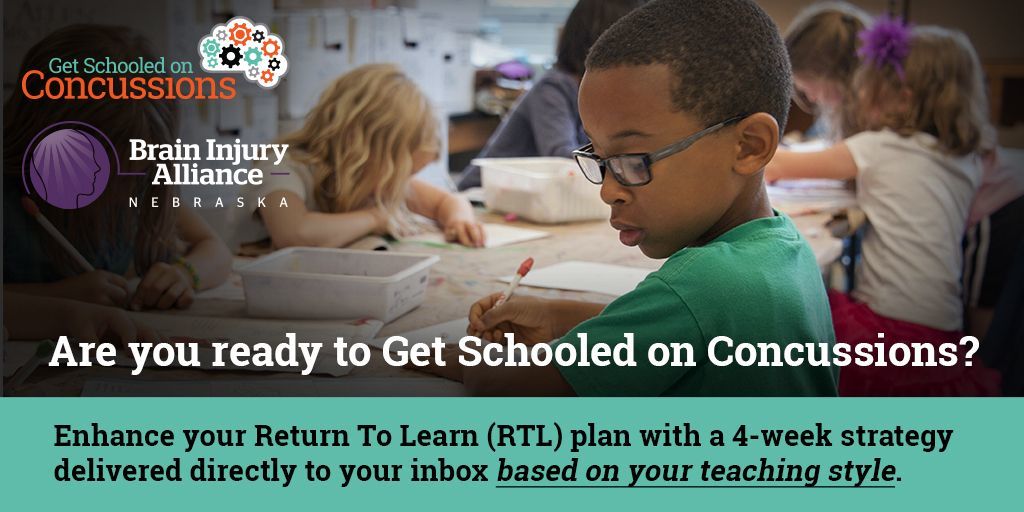 The Brain Injury Alliance of Nebraska is proud to partner with Get Schooled on Concussions, Nebraska Department of Education, Nebraska State Education Association, Nebraska Council of School Administrators, Nebraska School Activities Association, Nebraska ESU Coordinating Council, and the Nebraska Association of School Boards to provide this resource for free, for all educators in the state. 
Get Schooled on Concussions' TACT tool for educators can be accessed here with login password TACTnebraska2020. 
Free resources for all, including parents, can be found here.