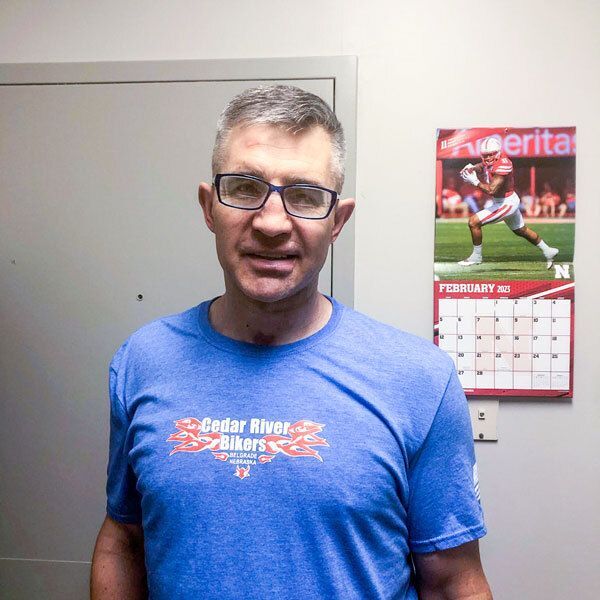 Have you ever met someone whose positive attitude was so contagious that you couldn't help but smile and notice a new bounce in your step after spending time with them? One such person is Jeremy Wolzen.
Recently, our organization visited QLI and I had the opportunity to meet Jeremy. Jeremy is no stranger to many of our team members. He does lots of volunteer work with the BIA-NE and he is a huge supporter of our Blazing Trails event. During a tour of the facility, Jeremy welcomed us into his room to show us the projects he was working on and to share his journey with us.
Jeremy was in a car accident 20 years ago that changed his life, and quite possibly for the better.
Before the accident, Jeremy took a job working construction soon after he graduated high school in which he learned how things were made. After a couple of years in the workforce, he decided to give college a try, but a summer opportunity took him in a different direction–diesel mechanics. Working as a diesel mechanic was rewarding, but after a couple years, he found himself pulled back into the construction world. There, he performed construction management as part of a risk management team to ensure the building plans were being followed by the contractors.
Jeremy was living his best life and enjoying the money he was making–when things took a drastic turn.
After the accident, Jeremy spent 84 days in a coma and four months in Madonna recovering and struggling with the idea that he might never walk again. Jeremy's family played a big part in his recovery and helped him to stay positive despite the struggles he was facing to regain his mobility.
—-----
Jeremy expressed his appreciation towards his family, saying that they are a close-knit family, and that he would not be where he is if it were not for them. Their support encouraged him to find his faith, which has helped him with his positive mindset and has given him a method to his "madness." Jeremy explained to me that he keeps his mind busy, so it doesn't wander into negative thinking. "Your life is always what you make it," and if you give him lemons, he is going to make the best lemonade possible.
—-----
With the encouragement and support of his family and his positive mindset, Jeremy learned how to transition from a wheelchair to a bed to a chair, then also into an automobile seat. Therapy continued moving forward and Jeremy began to walk. He was still a bit unsteady and as much as he wanted to regain his independence, he still needed support for walking. After a fall one night, he was placed in a net bed, so he didn't get up without assistance and fall again, but he was mobile without a wheelchair, something he was told was beyond his reach.
Jeremy transitioned to QLI, where he now lives.
Jeremy now spends his days volunteering at Immanuel hospital doing dishes, working out and spending time in the gym, participating in a cross-fit class that has been adapted at QLI for individual abilities, attending church and bible study, and riding his bike when the weather permits. Jeremy might not drive a car again, at least not in the city, but he enjoys his life and likes the person he has become.
Jeremy's family has put together a photo album that shows his recovery process from the beginning, he has come a long way and is proud of the progress he has made. Looking at the pictures, you can see the determination on his face, it's no surprise he has overcome his obstacles and is living his best life.
What an amazing example of positivity and courage!