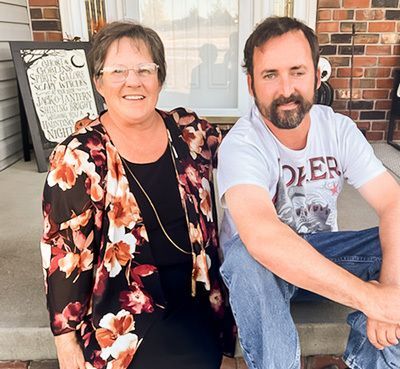 "Be not dismayed what e'er be tide, Beneath His wings of love abide,
Thro' days of toil when heart doth fail, When dangers fierce your path assail,
All you may need he will provide, Nothing you ask will be denied,
No matter what will be the test; Lean, weary one upon His breast,
God will take care of you."
The words of this hymn, "God Will Take Care Of You" written by Civilla Martin came to me as I stood beside the bed of my son who was lying in an alternating pressure hospital bed. This special bed constantly rotated from side to side and I could hear the swish of motorized air being pumped into the mattress. There was a monitor above the bed that monitored all the functions of Luke's body to provide vital information—the most important of which was the pressure monitor for his brain that showed the pressure on Luke's brain due to swelling.
The numbers needed to come down, and soon.
There was a tall metal stand lined with bags of healing contents critical to maintain body fluids and prevent infections. The constant beeps and changing numbers played in my head. The sounds and the signs were overwhelming at times because they could mean the difference between life and death.
I needed encouragement and peace. I wanted Luke to hear that God was with us, he was hearing our prayers and HE would take care of us. It's a promise!
On August 25th, 1997 my 16-year-old son, Luke Craig was driving his pickup to football practice. He was nearing the town of Eustis when the driver's side tire blew. When we went to survey the scene it was obvious that for several hundred feet Luke was fighting to keep the pickup in control. Then came the point where the tire was gone and the rim of the wheel dug into the asphalt. Luke lost control of the vehicle and it crossed the center line, went into the ditch on the other side of the road, and began to roll, end for end and side to side. Luke was thrown out the back window of the pickup (it was an old pickup; there were no seat belts installed).
Luke suffered multiple injuries, including a broken neck and deep lacerations from barbed wire which rolled up around him when he landed in a cornfield. The worst injury, however, was to Luke's brain. The doctors told us Luke had a severe, diffuse, axonal injury to his brain caused by the accelerating and instant decelerating motion of the accident. Every square inch of Luke's brain had been damaged with shearing forces to the white matter of the brain, caused by the rolling and then the instant stop of the vehicle.
The prognosis was not good. IF Luke survived, he might be left in a vegetative state. If he revived from the coma, he might not ever walk or talk again. He could have behavioral and cognitive complications. Luke's quality of life would drastically change and basically, life would never be the same after this injury. We were trying to not be dismayed. We were relying on our faith and we knew that "God would take care of us."
There is not enough time or space in this article to relate the life Luke has had since his accident. For the last 25 years, Luke and I have been walking this journey together. Luke went to Madonna Rehabilitation Hospital after the initial five weeks in intensive care. There, he received physical therapy, occupational therapy, speech therapy, and counselling. The doctors at Madonna continued to be honest by telling us that Luke's quality of life was going to be different. And they were correct.
This journey has been full of incredible challenges and heartbreaking struggles. Due to the care Luke requires, he has found himself moving from group home to group home and facility to facility - always searching for the best placement to meet the high demands of a person with a brain injury.
Luke had incredible anger issues brought on by the TBI. He was angry because he couldn't drive, hold a job, find a girlfriend, go to college (we tried, it was an epic failure); he couldn't hang out with friends and drink beer; remember what day it was, or simply walk over to a friend's house to play Nintendo.
There was a lot of support at first, but it was difficult for family and friends to be around Luke. His brother and sister tried to include him in family events, but at our family holiday functions, Luke would misbehave so badly that eventually, we quit gathering as a family.
Luke was isolated and I was isolated.
Every single day there was an issue, no matter where Luke was. I was exhausted most of the time just trying to make sure that Luke was getting the care he needed. Luke and I both suffered from severe depression. We were both suicidal at times. Many times hope seemed gone. My 20-year marriage dissolved. Friendships were strained. Family was afraid. I was afraid. Luke took his anger out on me because I was safe and he knew that no matter what, I would always be there for him. That's what unconditional love calls us to do. The journey has been long, frustrating, and exhausting. However, I have always been aware that God was in control and HE would take care of us.
To share all of the drama, the disappointments, and the frustration we have experienced while Luke lived in group homes over the years would be another stand-alone book.
If you are experiencing your own journey of living with a brain injury, or if you are a caregiver I would like to give you something of value that will make a difference in your journey.  HOPE – enough hope that you NEVER, ever give up. Because, after twenty-five years of struggling to find quality of life, it finally happened!
It started with the Person-Centered Planning program commissioned by the State of Nebraska. We attended trainings and learned that Luke had the power to manage his life. By focusing on his hopes and dreams and surrounding himself with a team of people willing to support him to reach his goals, everything changed.
Luke was able to participate in his own finances through the use of a True Link card which allows others to monitor and educate Luke on how to use his funds to get what he wants. He moved in with a family.
Luke did not want to live in a group home anymore. We were concerned we would not be able to find a family with a handicap-accessible home and vehicle. Luke was to receive a LARGE Service Dog and would there be ANY family who would be interested in having a dog in their home? Through a miraculous set of events, a family came to us because they heard Luke was looking for a family. Luke moved in on May 20th of this year.
Through the generous donations of people all over Lincoln, the state, and the country, Luke was able to raise $14,000 to pay for a trained Service Dog which he received on August 16th of this year. So many great and amazing events have occurred this year—25 years later.
"Be not dismayed! God will take care of you," comes to my mind again as I realize that, in just the right way and at the perfect time, situations and circumstances change and a broken and tattered life can have true meaning again.
The Brain Injury Alliance of Nebraska is one organization that has encouraged and supported us over the years. Time and time again, I have called to ask for help finding a doctor or a specialist. There have been support groups that helped Luke and I to realize that we were not alone in our journey. We attended yearly conferences where we were able to meet other individuals with brain injury and hear their stories of survival. The education and encouragement provided at the conferences and on their website have been invaluable tools that we have used on countless occasions as we faced another hurdle. The staff have listened to me rant about services or the lack thereof, have supported and encouraged me when I was sobbing about a devastating issue, and have included me in their efforts to provide the best possible services to others living with a brain injury.
So many times I have been dismayed. I have been discouraged and often without a sense of hope. I have been sad, frustrated, confused, and overwhelmed. Always, without fail, I return to the idea that God is in control. HE will take care of Luke and me, our family, and the people who work to ensure that Luke and others living with a brain injury have access to the best possible resources and the best possible quality of life. God WILL take care of you!