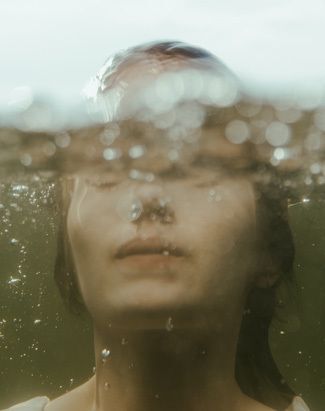 Jessica, a poet, advocate, and domestic violence survivor shares an impactful poem about struggling in silence and the power of being seen and heard. 
---
You don't drown by falling into the river, you drown by staying submerged
Maintaining a state of solitude through the piercing eyes of those passing by….
         ◈ PLEASE STOP. Tell me I'll be ok!
Silent words flow greatly from my soul as I drown in a pool of sorrow….
         ◈ Yet no one sees my struggle.
Gasping for air, the sun I feel--why am I not warm?
My voice is screams I hear aloud--why do I look ok?
◈PLEASE STOP. Tell me I'll be ok!
My body war-torn, my mind exceeds the limitations of comprehension.
◈Can you hear me? Please tell me I'll be ok?
The entanglement of emotions captive within my soul perceived by those piercing eyes
" Everything is okay, She's fine."
◈WHY CAN'T YOU HEAR MY SCREAMS?
Thoughts race through my mind>>They once brought me so very far, now I'm held captive.
◈PLEASE STOP. Tell me I'll be ok!
Present state turns to history with the hands of time.
Shall I live within the confines of history?
Shall I live within the moment?
She STOPS>>>>>>>She SEES>>>>>>>She HEARS>>>>>>>
◆ELATION!!
Eyes swollen, tears cascading…this war-torn body is standing…the reflection you recognize…
         Once drowning, screams unheard, the reflection is YOU shouting aloud….
◆YOU WILL BE OK!!
>>>YOU are previewing the undefined<<<
Wiping the tears, standing tall, warmth you feel…
◆Your voice has now been heard
Recalling the strength those thoughts that previously brought you so very far⥹
Once again you grasp tightly around⥹
You have chose to live in the Moment⥹
⇛You have chose to be defined as a Warrior!
---
Download and listen to the recording of Jessica reading this poem: 
https://biane.org/file_download/7f8281e5-7e61-40dd-a2e2-25b2fecf324e