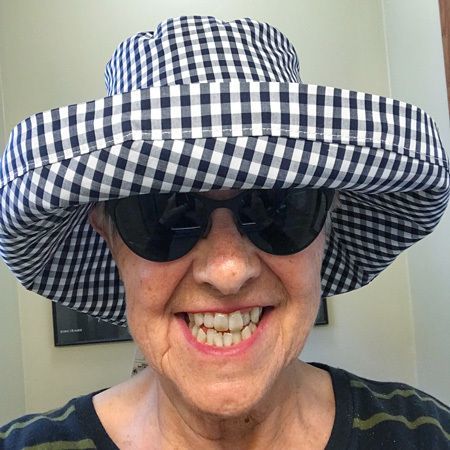 The first thing I remember is waking up in the hospital. 
My husband was standing next to me as I tried to make sense of what was happening and what he was saying—I had no idea what was going on. My husband kept telling me that I had fallen off my horse and had been brought to UNMC in an ambulance. My brain simply wasn't working. It was terrifying!
That was my introduction to a traumatic brain injury (TBI). What I didn't know then was that my life would be forever changed. I still have no memory of what happened.  
Days and weeks later, I remembered having been President/CEO of the Nebraska Humane Society and loving every minute of working there. As I struggled with reading, I remembered the hours I used to spend reading in the past. I went to visit my grandchildren and could not follow how to play Cribbage, a game I used to love. I felt sudden exhaustion that demanded that I go to bed.  My emotions were on a rampage. My brain was still AWOL much of the time. The terror was growing.
Then, I met a person who I consider to be my guardian angel who suffered a Traumatic Brain Injury (TBI) 16 years ago. She assured me that I was going to be ok and that there was help. She was great; she pushed me to stop spending energy thinking of what will never be again—I needed that! I began to relax and start to learn how to live with a TBI.
My guardian angel is active with the Brain Injury Alliance in Nebraska.  She and the organization have supported me and educated me about TBI and how to best prepare to live with it. Their message is always affirming, positive and realistic.
I have found it is much easier to talk to folks who share having a TBI. They understand the pauses in a conversation and the changes that can happen. A TBI has been described as dancing the Cha-cha as one step forward/ two steps back. I would agree.
During the past 8 months, I had to make changes in my life. I have found a home for my horse that is perfect for him, and he is very happy. Because the barn was my social life, and I missed my friends, I have joined a gym that helps fill that void. I have four dogs who make me laugh and feel loved. I have found peace with the fact that horses will not be a part of my life.
I have been disappointed by the reaction of my friends.  With a brain injury, you don't have a body part in a cast to indicate that you are injured. Some days are good, and some are bad. Your memory is impacted, you cry often, your balance is off, but none of that is visible. I had friends wondering why I wasn't on a horse. I explained, but it is hard to describe—I think some thought I was lying. One person asked why they don't let people with head injuries experience their old life so we would want to get better. I was so hurt. My old life was all I thought about.
I am now feeling much, much better and over my anger at some of their comments. We all have to live our own lives. I have given some things up and added some new things. Life is good again. I have met amazing new friends and am working to help other people living with the effects of TBI to understand that there is always an "option B" to life, and we just have to define our own journey.
My husband has been fantastic. We have laughed when things were funny, like the night I asked him to get the six people in our bed to go home—there were not six people, but he assured me he would get them out.  He has been with me on the whole road. My sons have also been wonderful as have my true friends.
2021 was a dreadful year for me, but 2022 will be great.  I am ready for it and am ready to bend and change as needed. I want to be a good wife, mother, and friend. I want to help other people with TBI's and work together to help all of us on our journeys. Come Spring, I will start a new garden, and the world will continue to turn. It is all good.