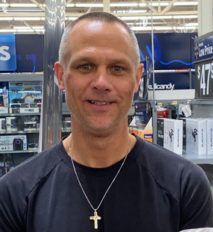 I have no idea where to begin. No words will ever express how a mother feels losing a child. No matter what age or the circumstances. An accident is hard enough to accept but to make a conscious decision to leave someone in the street to die is incomprehensible.  Always wondering, how much did he suffer? Did he see the other car coming at him? The fear he must have felt not being able to move and being alone.
Sean was a son, a brother, an uncle, a nephew, a cousin.  But foremost, he was a dedicated father, who loved his children more than anything else.  He worked for the family business. He always went the extra mile to make sure the costumer was happy.  Sean, was a weightlifter, golfer and watched his beloved Huskers in his free time.  He loved movies and quoted widely from his favorites, along with singing along to his favorite rap music.  He owned a house, had a wife, a daughter and son.  He enjoyed spending time with his kids playing video games, watching movies, and attending their sporting events.
December 22, 2015, that all changed. He suffered extremely violent seizures for, they believe, 7-8 hours.   His wife found him in the morning unresponsive and seizing in his recliner. At the hospital he had several tests and was put into an induced coma and then intubated. There were amphetamines detected in his system. This was unbelievable as he was the health nut of the family. The only thing we knew that Sean would ever take was Ibuprofen for his migraines. From his doctor, found out that they had discussed Sean using weightlifting amphetamines. The doctor told Sean they were not FDA approved and some had synthetic amphetamines in them. Without the family knowing, Sean had been taking amphetamines because as he told his doctor, he felt so much better and had more energy. Besides in his mind they were safe because they sold them in stores. In the hospital, tests showed that, at some point prior to the seizures, Sean had suffered a stroke and a concussion. After being taken off the vent, it was found the humerus in his left shoulder had been broken into three pieces.  He went home on blood thinners for a blood clot in his neck and pain pills for his shoulder. 
Nothing was said of possible repercussions from what he went through. Or other possible trauma. He had no memory of what happened and a horrible fear of dying.  Constantly, eating and carrying with him foods high in sodium so he would not have seizures again. Even some of his tastes in food changed. But in his mind, nothing was different. He was the same as before. But Sean had absolutely changed. Everything he was, now was totally exaggerated. Anger was out of control. He had tried to return to work but could not concentrate or make decisions and do the things that had been second nature to him for years.  He got into fights with other employees and customers. Totally out of character. Migraines he had suffered for years were now more frequent and severe. He had horrible verbal out bursts for no reason.  His short- term memory had gotten bad before the seizures, which we now attribute to the stroke he had. But now it was bad to the point of black outs. His coordination and body movements were different. Like clumsy. His judgement was nearly nonexistent. He was anxious. He totally lacked empathy when we talked to him about his behavior.  He could not stand loud sounds. Was barely able to get through one task at a time. He would misinterpret what was said to him and even facial expressions.  Things at home had changed so much his wife kept asking him to leave. He went to motels, would be gone for days and things were worse.
We made a list of our concerns and took into his family doctor. She would visit with him and he denied all except for a couple of things and that would be the end of it.  He had worked in our family business for nearly 23 years. He was hard worker that we could always count on. We had always been a close family. Spending all holidays together. Having family dinners several times a month, celebrating birthdays and even going on vacations together. We were always there for each other. I had to finally tell Sean he could not come to work anymore. He was too unreliable and unpredictable. He was spending money like crazy. I suspect this is where the drugs really came into play as he was no longer lifting weights and getting supplements.  As his mother, I knew there was something more going on but did not know what.
Sean made the horrible decision to try meth one time. Within a year, he was divorced, without his children, and could no longer hold a job.  The brain injury, along with drug use, rendered him a vulnerable adult.  His life, in the blink of an eye, was changed forever.
Sean's condition worsened, now homeless and struggling with addiction.  Sean tried to get help.  I'm sure we were not the only ones constantly running into roadblocks. Our system is so broken. I can't imagine what people in Sean's situation face with no support at all. As his mother, I worked tirelessly to help him. He fought so hard to get his life back but could never understand why nothing worked when in his mind he was doing everything right. He did very well in treatment and when on meds but needed more help than that. He needed long term structure with addiction treatment, mental health, and neurological treatment. He said he would never stop trying to get better for his kids. That's all he lived for.
He was released from treatment on March 7, 2020. Recently, I found out the reason for his discharge was because he needed a different level of care. They have no idea how true those words were. Due to the TBI, he was unable to function at their expected level. Yet, no one contacted, or even tried to talk to me. They knew I was his support and POA. Unfortunately, I had left for Utah a few days before he was released, for my daughter's surgery. I never dreamed he would be out so soon. His Aunt was here for him and did all she could. But she did not understand all the issues or how to deal with him. 
Each time he fell back into the same lifestyle.  Yet he continued to try, he tried so hard. Sean ran out of time.  His life cut short when he died as a result of a hit and run when crossing the street, on the night of March 28, 2020.  His journey to recovery cut short by his untimely death.  Sean fought hard to overcome his addiction.  The barriers, obstacles and challenges were just too much.  His journey ended too soon when he was killed in a hit and run.
To memorialize Sean's life and his journey, I provided backpacks to the Brain Injury Alliance of Nebraska to give to others, without support, that are suffering from brain injuries, homelessness, and addictions.  Each bag contains the "necessities", toiletries, gloves, water bottle, etc.  Most important is a copy of Sean's story included in each backpack.  One of the hardest things for me to accept, besides how he was killed, is to have the support he had, and still get no one to listen, is totally unacceptable. Sean never stopped trying.  Please, never stop trying!