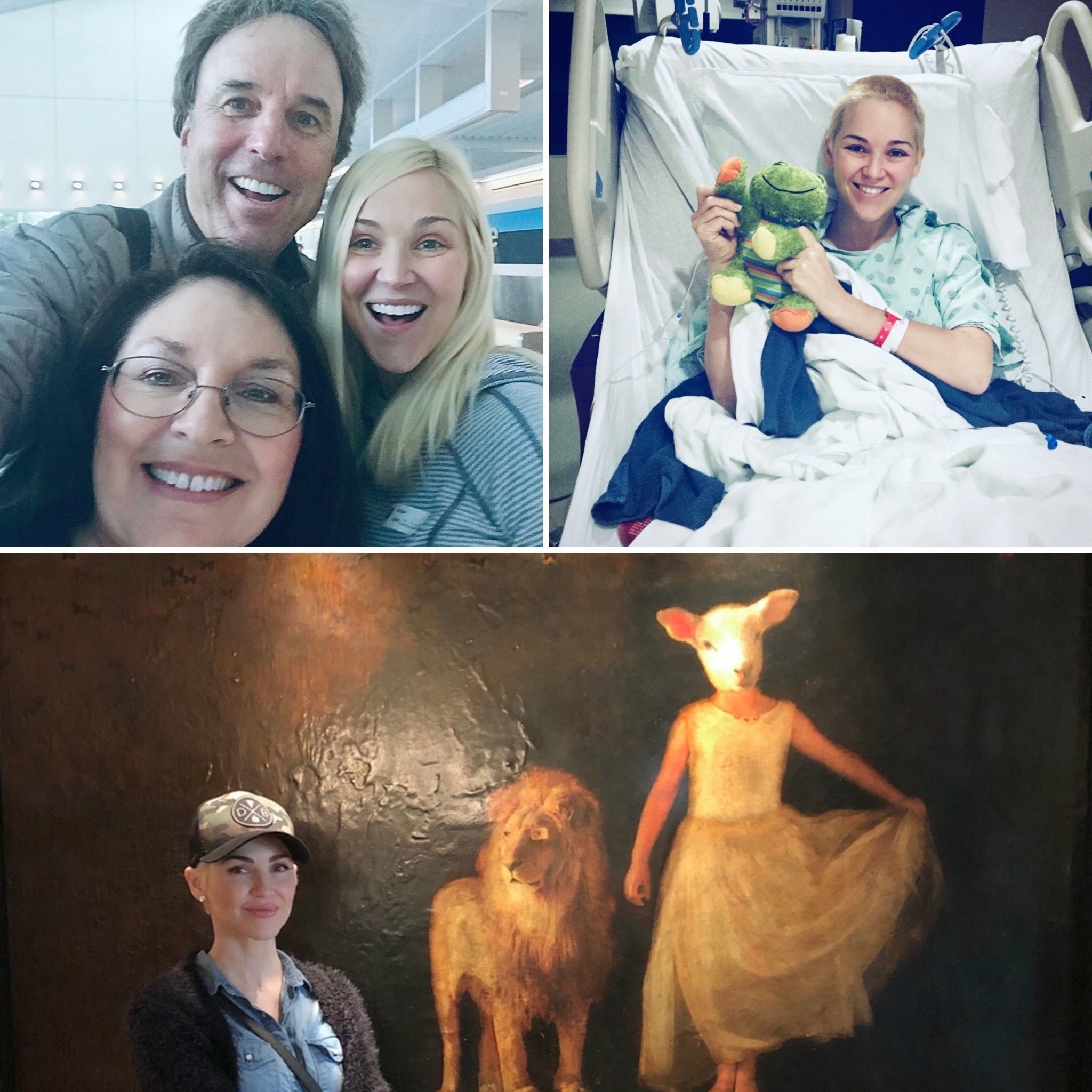 Photos Clockwise from Top Left: Reinie and her mom with actor Kevin Nealon; Reinie post-surgery; Reinie in the hotel lobby in Houston. The symbolism of lions & lambs popped up numerous times for Reinie. 
When I look back on this journey, I still find it hard to believe any of this really happened. It's almost as if I was an observer, an outsider looking in.   My friends and family have encouraged me over the years to share my story.  I think the tipping point was a "memory" my mom posted on Facebook recently.  It was a picture of us violating Kevin Nealon's personal space for an awkward selfie at RSW airport five years ago.  We were headed to Houston for a consult with Dr. Kim, my neurosurgeon, to discuss the removal of a tumor that had formed in the pineal region of my brain.  Seeing the picture mom posted immediately took me back. 
I was 36 years old.  My life, at the time, consisted of juggling the responsibilities of our various real estate businesses, overseeing a major home renovation, and caring for my 12-year-old twin daughters.   I had reached a dangerous level of prolonged insomnia.  Broken toes and random bruises were a usual "thing" as I was constantly running into things and tripping over my own feet.  The exhaustion, intolerable headaches and visual disturbances etched away at my sanity as well as my ability to carry out the usual activities of daily life.  I remember rear-ending another mom in the car line one morning while dropping my girls off at school.  I was mortified.  I played it off like I wasn't paying attention, but the reality was, I fell asleep.  I became a hazard to myself and others.  Intervention was necessary but finding a doctor willing to perform the delicate and controversial surgery proved to be nearly impossible. 
That is, until I stumbled upon Dr. Dong Dong Kim at Memorial Hermann in Houston, Texas. Dr. Kim was a brilliant man of few words.  He also happened to be the neurosurgeon that operated on Congresswoman Gabrielle Giffords after she was shot in the head while signing autographs in an assassination attempt. Congresswoman Giffords was life-flighted from Phoenix to Houston where Dr. Kim proceeded to save her life.  She ended up making a remarkable recovery with few deficits.  Her story became my inspiration.  It gave me an incredible sense of hope, one that I promised God I would pay forward if I made it through all of this alive.  I knew that if Dr. Kim was good enough for her, he was good enough for me.  He turned out to be everything I had prayed for, my God-send.  He gently acknowledged my suffering and assured me he was equipped to handle my case.  Surgery was scheduled for January 14, 2016.  Yes, this month is the 5th anniversary of my brain surgery!
While I was terrified of the process and potential outcomes, I knew I couldn't go on living the way I had been.  When I awoke from surgery I was elated.  I could SEE!!!  This was a really big deal as there was a strong possibility the surgery would cause further damage to my vision.  The elation faded over the next days and weeks as the impact surgery had on my body became apparent.  A short walk felt like a half marathon, a trip to the grocery store felt like a rollercoaster ride with no seatbelt, a car ride left me nauseated for days, the noise of a lawnmower or leaf blower put me in an immediate state of panic.  The compounded frustration caused me to have frequent outbursts which led to feelings of guilt and hopelessness. 
Check back next month for the second half of Reinie's journey five years post surgery.