A Story of Hope: Charlotte's Story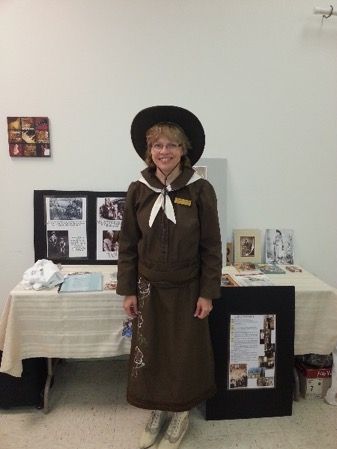 Charlotte Endorf was a multi-tasking, workaholic prior to May 17, 2018.  She was a high use speaker for Humanities NE, meaning she spoke several times a week (sometimes twice a day) on her three subjects; The Life and Legacy of Annie Oakley, Plains Bound:  The History of the Orphan Train and Nebraska Spirit: The North Platte Canteen. Charlotte traveled the entire state of NE, thousands of miles per month.  She had written 10 published books and brought the history of those books to life in costume.  She had also overcome migraine headaches and was once again able to eat whatever she wanted, no longer suffering a vast array of food allergies.  Her medical professional knew her well and told her to take a day off and enjoy herself before auditioning for a fourth talk and publishing two more books.  
On May 17, 2018, Charlotte attended a Midwest Tulip Festival with a friend and her daughter.  The day was beautiful and a much welcome break from the dreary weather.  The afternoon parade was to be the highlight but the friend's daughter decided she wanted to go home.  On the return ride, Charlotte was sitting in the back of the car. The daughter drove through a four-way stop and collided with another vehicle.  Charlotte received a double concussion and whiplash. 
As the policeman wrote up the report on the accident, Charlotte walked around, taking pictures of the cars and talking to her husband on the phone.  When Charlotte finally arrived home, she went to bed, deciding that if she felt as bad in the morning, she would go see her doctor in North Platte.  That began Charlotte's journey in recovery from multiple concussions (TBIs).  Two years of doctor's appointments and different treatments, some that helped and others that didn't, Charlotte continues her daily battle to get back to how she was before a car accident that she walked away from. Charlotte's journey included; a month of bedrest, 89 days in Omaha working with Moore Neurotherapy, NUCCA chiropractic and Fyzical Concussion Clinic. The therapy consisted of Charlotte being tied to the floor with weights to help with balance instead of holding onto walls to walk. A special board helped with vision to get back to driving. An audiologist helped with Charlotte's right inner ear concussion, assuring her that her hearing was okay. A speech therapist helped Charlotte by using puzzles to work her brain and memory skills. With the aid of her husband, Charlotte's speaking began to make some sense again.  They tried dry needling and laser for pain but neither helped.  
23 doctors…  She'd been told 22 times to just learn to live with the memory loss, pain, sensitivity to sound and light, and other unexpected, unseen symptoms. Her 23rd doctor was a lead from Brain Injury Alliance NE.  Dr. Levi Kenny gives her hope she will be healed in three to five years.  Not back to where she was but lots better than today.
Her husband continues to speak with her.  He does half of the talk and all of the heavy lifting.  Most importantly, he drives her to the engagements.  He has become her caregiver as she forgot how to read, write, and cook.  She's slowly re-learning it all but still can't read just any adult level book, whereas she used to read two or three at a time.  Most distressing to her husband of over 30 years is her complete change of personality.
The couple have learned to scale plans back and do what Charlotte can do. The sound of bells and people behind her really bother her so even before the pandemic, they learned to go to church virtually.  They know it is good for Charlotte to walk around the block with their dogs.  So, they created a walking tour of the 1975 tornado that hit Omaha and their small town of Magnet by just walking around the block. She has hope that after the pandemic they will proceed with plans to start C+K Oasis; which will have a Free Little Library, Free Community Pantry, many vendors who simply rent space and receive 100% of the sales, and serve as a specialist clinic for those who desire to expand from the city to Northeast NE.  Outdoor games will be planned around community events.  Glamping will be offered for those who like to camp in luxury.  The one thing the accident didn't mar is Charlotte's ability to dream!