Recognize the First Concussion; Avoid the Second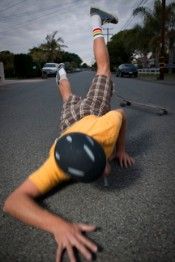 Failure to recognize and properly manage a concussion can lead to an injury known as "second impact syndrome." Second impact syndrome can cause a lifetime of disability or can be even fatal.
Second impact syndrome is preventable - if there is recognition and proper management of concussions - when they first occur. It can help prevent further injury or even death from a second impact concussion. Stress this to your children. They must let someone know if they have experienced a concussion even in another sport or off the field.
Recognize the First
All concussions are serious. A concussion is not: "Getting your bell rung" or "getting dinged." IT IS A BRAIN INJURY.

Concussions can occur without loss of consciousness. It is up to the parent to recognize signs of concussion or brain injury.

Concussions can result from motor vehicle crashes, falls, sports injuries, physical abuse and other cause. In ages 15-24, sports are the second leading cause of traumatic brain injury.

A brain injury has a more devastating impact on a child than an injury of the same severity has on a mature adult. The cognitive impairments of children may not be immediately obvious after the injury but may become apparent as the child gets older and faces increased cognitive and social expectations for new learning and more complex, socially appropriate behavior and/or physical disabilities. These delayed effects can create lifetime challenges for living and learning for children, their families, schools and communities.

Parents want to see children excel and be accepted, but let your children know that their life, health and future are more important to you than any game. Nebraska coaches report that parents are sometimes an obstacle to pulling a child who may have suffered a concussion from play.
Give your child time to get better
Most children or persons with a concussion will recover quickly and fully. But for some, the signs and symptoms of concussion can last for days, weeks or longer.

Because delayed onset of symptoms during the first 24 to 48 hours is possible in children, parents - or another responsible adult - should closely and periodically monitor the child during this time.

Rest is important and your child should not return to learn or play until you get the OK from your healthcare professional.
Resources for Parents
The Heads Up to Parents website offers Videos, Customizable Fact Sheets, Tools and Tip and Trainings.

The new Heads Up app features a Helmet Selector, Brain Injury Basics and Safety Tips.

Doctor discusses the role the entire family plays in a child's recovery from TBI — from being able to care for and push the child during rehab therapy to reinforcing those therapies in the home.

Returning to play is not the only issue, Returning to Learn - concussion management in the classroom is important. The Nebraska Department of Education provides resources and assistance for returning to the classroom after a brain injury.