The FOREVER SHAKEN video can be viewed below or the Brain Injury Alliance of Nebraska's YouTube Channel (BrainInjuryNebraska). It can be downloaded from the YouTube channel.
NEVER SHAKE A BABY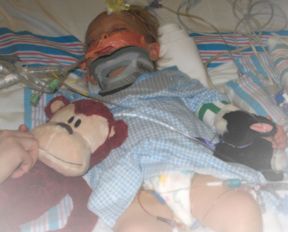 But what happens after a baby has suffered abusive head trauma? What are the life-long challenges? What do their disabilities look like? How do their caregivers cope? How do we prevent abusive head trauma?

This video is a 30-minute documentary featuring the lives of four Nebraska children who are victims of Shaken Baby Syndrome and their families. The viewer will gain an understanding of the trials of the family members helping their child recover from the devastating effects of SBS. Experts will discuss the signs and symptoms of Abusive Head Trauma on children, factors that put them at risk, factors increasing parents and caregiver's risk of harming a child, the cost of SBS on society, and resources available for parents and caregivers.

Producers Brandon and Tiffany Verzal take a unique look into the lives of four Nebraska children that survived Abusive Head Trauma, as well as interview some of the Nation's leading child abuse experts. In 2008, the Verzal's daughter Alexis (6) suffered AHT (Abusive Head Trauma) at 14-months old at the hands of her daycare provider in College Station, Texas. She spent ten days in a coma and woke with little hope. Brandon and Tiffany have documented her journey of struggles and triumphs of living with a Traumatic Brain Injury.

Chase Junck (6) of Randolph, Nebraska also suffered AHT at the hands of his daycare provider when he was 16-months old. After being revived, having a stroke, and half of his skull removed, Chase was able to survive and transfer from Omaha Children's Hospital to Madonna Rehabilitation Hospital where he and Alexis Verzal spent the next spent the next several months working to overcome the setbacks from their TBI (traumatic brain injury). Chase's parents Jill and Scott Junck share their story of the long road to recovery.

In October of 2003, Kristine Frerichs was attending a child protective services class in Lincoln, NE, her son Ethan, who was 8-months old, was being cared for by his daycare provider at the Offutt Air Force Base. The very same day, as Kristine was learning about protecting children, her son was a victim of AHT while at his daycare provider. Kristine, not only is a tireless advocate for her son but an educator for AHT as well as a school psychologist for ESU 10 in western Nebraska and also a facilitator for BIRSST (Brain Injury Regional School Support Team).

On June 10, 2010, in Omaha, Nebraska, Antonio Bartlett had only been on this earth for 62 days when he suffered AHT at the hands of his father. Antonio spent 11 days on a ventilator and remained hospitalized until September 17, 2010. During that time, he was cared for by his grandmother Deena Candler. After his hospital stay, Antonio was placed in foster care with Melanie Bartlett, and on December 20, 2011, Melanie officially became his mother. Melanie and Deena share their perspectives on the aftermath of AHT. Melanie is a juvenile probation officer and works for the Nebraska Supreme Court supervising youth under the jurisdiction of the court.

As these four families share their Journey, Dr. Suzanne Haney, Medical Director at Project Harmony and Child Abuse Specialist at Omaha Children's Hospital takes us through the mechanics of AHT as well as signs of abuse. James Hmurovich, president & CEO of Prevent Child Abuse America also talks about the triggers to child abuse and helps provide solutions for prevention. Former Director of the National Center on Child Abuse Prevention Research, Deborah Daro, Ph.D., also shares her findings to reduce AHT. Dr. Daro is currently a Research Fellow at Chapin Hall at the University of Chicago, has over 20 years of experience in evaluating child abuse treatment and prevention programs and child welfare reform efforts.
Help Us Educate through Information and Prevent Abusive Head Trauma