If you want personal assistance Contact A Resource Facilitator
Brain injury can cause worry, confusion, and stress. Support groups provide a chance to connect with others and their family members living with the effects of brain injury. Click on the image at the right for a listing of Nebraska Support Groups.
Please call the support group contact before you attend a meeting for the first time, or if you have not attended recently to ensure the schedule has not changed. 
Brain Injury Alliance of Nebraska encourages individuals with brain injury and their loved ones to attend a voluntary support group near them. Support groups can provide a number of benefits and key results:
Emotional healing comes when people interact with other people.

Sharing of similar experiences helps members feel less alone and more ready to deal with day to day issues.

Encouragement comes from learning about how others have conquered situations similar to theirs.

Contribution helps support group members feel meaningful.

Education results from the exposure to information and personal experiences in a group.

Socialization occurs when connections with people are made and confidence in social skills develops when appropriate interaction occurs in support groups.

Self-expression, as emotions are experienced and released, creates a greater understanding of oneself.

Confidence building results as members take responsibility for the work of the group, and see progress with the plans they made.

Safety, in the environment of a confidential, supportive, non-judgmental group, allows for honest disclosure and sharing of common difficulties.

A sense of growth occurs as long-term members see new participants and reminisce about where they began and how far they have come in their personal journey.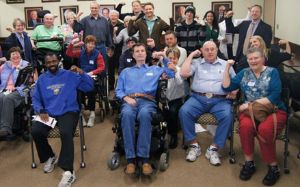 "I attended my first support group meeting tonight and was amazed by all the love and support in that room by everyone! Thank you for allowing me to be part of your inspiring yet difficult stories. I know my life along with my parent's lives will never be the same after [my brain injury] but it was awesome to see that there could possibly be hope! Please know you all will be in my thoughts and prayers every day. I look forward to attending again next month! " A.F., Lincoln, NE.