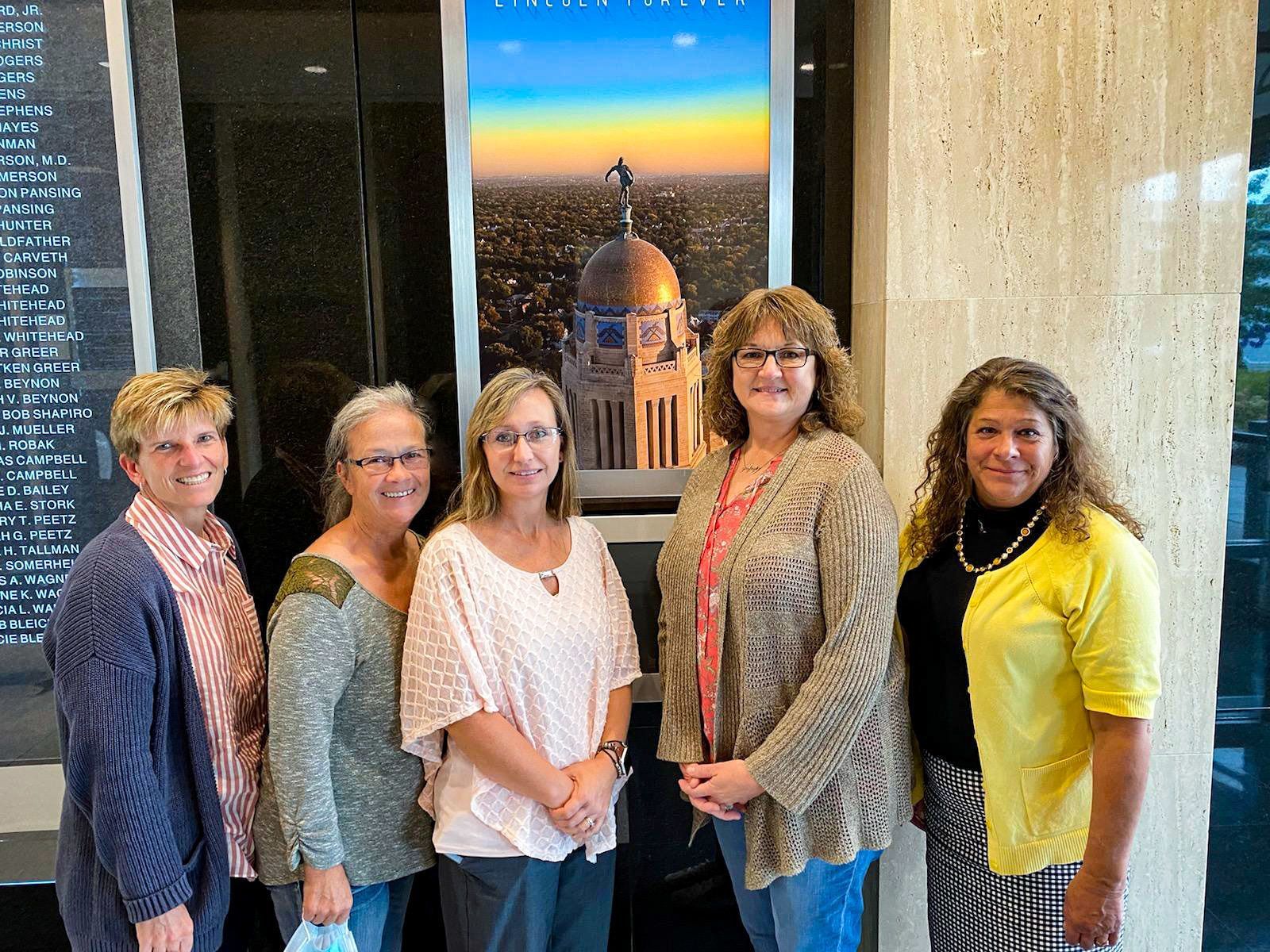 NEBRASKA - After receiving the first year of funding from the Brain Injury Trust Fund, the Brain Injury Alliance of Nebraska has grown its statewide Resource Facilitation program from one full-time and one part-time resource facilitator to five full-time resource facilitators.
What is the Brain Injury Trust Fund?
For a decade, the Brain Injury Alliance of Nebraska (BIA-NE) advocated for the Nebraska Legislature to establish a Brain Injury Trust Fund. With Senator Mike McDonnell and Senator Kate Bolz leading the charge, the Brain Injury Trust Fund was established in 2019. The priorities of the Trust Fund include:
Expanded resource facilitation
Brain Injury training for service providers
Improved follow-up with individuals on the Brain Injury registry
Public awareness activities
Support for brain injury research
Evaluation of quality brain injury services
New Resource Facilitation Staff
The Brain Injury Alliance of Nebraska's new, full-time resource facilitators help connect individuals with brain injury and their families to brain injury services and supports.  
Gina Simanek, MA, LMHP, joined the BIA-NE staff full-time in September. She serves the Lincoln metropolitan area and Southeast Nebraska region. Simanek is a passionate advocate who works with individuals and families to build new lives. 
Sheila Kennedy joined the BIA-NE staff in October. She lives in Kearney, Nebraska, and serves the Central Nebraska region. Having come from an agency on aging, Kennedy brings a host of knowledge for navigating insurance issues and aging issues.
Shirlene "Shir" Smith and Melinda "MenDi" McCuiston also joined the BIA-NE staff in October. They serve the Western Nebraska region. Smith offers firm support to the Panhandle and North Platte regions. McCuiston uses her life coaching skills and knowledge of the North Platte region to help brain injury survivors regain independence. 
Chris Stewart continues to serve the Omaha metropolitan area and Northeast Nebraska. Stewart's energy and compassion fill her work as she connects individuals and families to the resources and services they need. 
What Do People Have to Say about BIA-NE's Resource Facilitation Program?
"Thank you for calling my mom. We are still processing a lot with [her] and it was so helpful for you to listen to my mom's concerns and explain all that we know at this point. Even though it is still difficult, I know that it relieved her mind just to talk to someone (other than her daughter!). You wear a lot of hats and I appreciate you being a social worker to my mom." ~L.M. 
"This is all incredibly helpful, and I can't thank you enough for this support and these resources. It's also really comforting simply to know that this organization exists and that you are available to provide support." ~M.V.O.
"Don't know where we'd be without your input this past year!" ~L.M.
Feedback from Healthcare Professionals
"Wow. Thank you – this was very helpful and insightful for me, I'm sure it will be to the others too!" ~ K.A., Head Nurse
About The Brain Injury Alliance of Nebraska
The Brain Injury Alliance of Nebraska was founded in 2009 to help individuals with brain injuries rebuild their lives, restore purposeful living, and restore hope and optimism. Serving the brain injury population means securing and developing community-based services, providing support groups and access to pertinent information and medical resources, and service referrals. It also means educating professionals who work with children and adults with brain injury. 
What is a Brain Injury?
A brain injury can happen to anyone, anywhere, at any time. An individual, a colleague, or a loved one may experience a brain injury resulting from a stroke, an aneurysm, an infection, a blow to the head, a fall, a car crash, or any number of additional scenarios. Without practical, ongoing support, some individuals with brain injury struggle with basic daily tasks. A brain injury may affect the ability to drive, communicate, or present interpersonal challenges leading to instability in social, academic, or employment settings. Financial distress after brain injury creates concerns over basic needs like housing or access to care due to being under-insured and unaware of the network of resources available to those living with brain injury. BIA-NE was founded to help with this need for ongoing support.
Peggy Reisher, Executive Director of BIA-NE, is available for interviews about working with individuals with brain injury and how Nebraska can better support individuals with brain injury.
For more information about the Brain Injury Trust Fund, Resource Facilitation, or the Brain Injury Alliance of Nebraska and all of its services, contact Peggy Reisher, Executive Director, at peggy@biane.org or 402-890-0606.